The mythical founder of Chinese civilisation and a symbol of longevity and success, the dragon is a chimera, a fantastic amalgam of several animals in one body. Fascinated by their magic and strange beauty, Cartier regularly created Chinese Chimera jewellery from 1920 onwards. Cartier did not merely copy traditional jewellery and ornaments, but immersed himself in the spirit of ancient China to create original pieces, often using coral and precious stones to produce marvellous colour combinations.

CHIMERA CLIQUET PIN
CARTIER PARIS, 1923
Platinum, yellow gold, round old- and single-cut diamonds, one fluted emerald bead, emerald cabochons and buff-top emeralds, one natural pearl, carved and fluted coral, onyx cabochons, black enamel.

Sold to Louis Cartier.
13.0 x 1.8 cm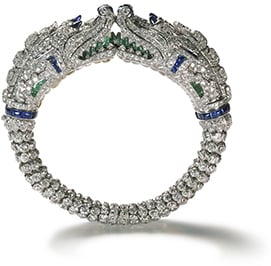 CHIMERA BANGLE
CARTIER PARIS, SPECIAL ORDER, 1929
Platinum, pear-shaped diamonds, round old-, single- and French-cut diamonds, sapphire cabochons, buff-top sapphires and emeralds, gadrooned rock crystal (throat).

This bracelet was the first of the chimera bangles to be made entirely of platinum and gemstones.
7.8 x 7.7 x 1.8 cm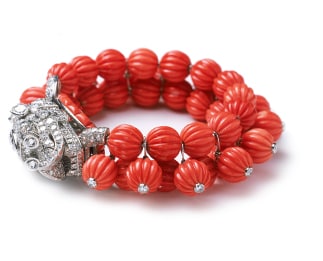 CHIMERA BANGLE
CARTIER PARIS, SPECIAL ORDER, 1954
Platinum, white gold, marquise- and brilliant-cut diamonds, fluted coral beads and buff-top coral cabochons.

The eyes are formed by brilliant-cut diamonds set in reverse, the collet outward. The central strand of coral beads is studded with collet-set diamonds.
20.0 x 2 cm