STORY OF… MEMORIES OF CARTIER CREATIONS (2009)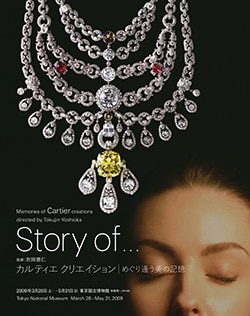 Tokyo, National Museum

Story of… was a milestone exhibition in the Cartier Collection odyssey. Held at the National Museum in Ueno, the exhibition was devised by internationally acclaimed designer Tokujin Yoshioka, who offered a contrasted vision, composed of black and white, shadow and light, in a pared-down ambiance designed to stir the emotions of the visitor. Innovative holographic projections explored the jeweller's expertise by showing how the pieces were designed and telling the stories of the prestigious clients who commissioned them. The exhibition concluded with an olfactory room, brainchild of the designer, which gave the visitor the chance to take home a scent as a souvenir of the exhibition and of Cartier design.