Antique, Byzantine and neo-Renaissance motifs, floral and animal figures, enamels and cameos, gold and precious stones... before 1900, Cartier reflected the times by embracing eclecticism – in parallel with what was happening in the decorative arts and architecture. One loyal client brought him fame: Princess Mathilde, niece of Napoleon III. Princess Mathilde hosted the most exclusive salon in Paris. She was called "Notre Dames des Arts" (Our Lady of the Arts).
PARURE
CARTIER PARIS, C. 1860
Gold, oval- and pear-shaped faceted amethysts, tortoiseshell.
Necklace 42.5 cm; comb 11.3 x 12.0 cm; brooch 8.0 x 4.0 cm; earrings 4.0 x 1.7 cm
ENAMELED WATCH ON CHATELAINE
CARTIER PARIS, 1874
Yellow gold, pink gold, polychrome enamel, pearls.

Round movement, gold-plated, cylinder escapement, monometallic balance, flat balance spring.

Hinged crystal opens to allow access for setting the time and winding the watch (at 4 o'clock).

A chatelaine is a long chain worn since the 17th century at the waist by both men and women. Such chains were composed of ornamental plaques joined by various kinds of links. Attached to the chain would be a matching watch, often accompanied by several charms. This inspiring piece of decorative finery could attain a high degree of magnificence. Surviving with its original presentation case, this chatelaine is a perfect example of these richly elaborated pieces.
16.5 x 3.4 cm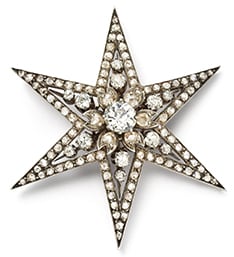 STAR BROOCH
CARTIER PARIS, 1889
Yellow gold, silver, round old- and rose-cut diamonds.
4.8 x 4.15 cm